PG&E's sudden July 21 announcement to initiate what it called a Marshall Plan level effort to spend more than $15 billion to bury 1,000 miles of fire-causing overhead power lines a year for ten years marked a stark reversal of the utility giant's argument that such an effort would be impossibly expensive. 
Potential liability for the Dixie Fire prompted the company's recently hired CEO, Patricia "Patti" Poppe, to unveil the plan."We know that we have long argued that undergrounding was too expensive," Chief Executive Patti Poppe said. "This is where we say it's too expensive not to underground. Lives are on the line."
The announcement came two months after the Sonoma Independent, allied with the Davis Community Vision Alliance, launched a grassroots Bury Power Lines Now! Campaign.
The effort began with this article in the Sonoma Independent describing how climate change-induced high winds, hot weather and drought have caused overhead power lines in a relatively tiny area of the state to spark four of the six most destructive fires in the state since 2017.

The campaign to build awareness of the importance of burying a relatively small percentage of all overhead lines hosted a Change.org petition that was signed by more than 1,700 Californians and viewed nearly 20,000 times.  With the assistance of environmentalists from UC Santa Barbara, UC Berkeley, and UC San Diego, commentaries and letters advocating for The Bury Power Lines Now! Campaign appeared in various news sites including The Press Democrat, The Davis Enterprise, The Pacific Sun, News 93.1 KFBK and Mercury News.
Jonathan Greenberg,  a veteran investigative journalist who is founder of the campaign and of the Sonoma Independent, commented, "For the past four years,  as fires caused by overhead power lines have ravaged our communities, deteriorated public health, and added millions of tons of carbon to the air, PG&E has claimed that it is too expensive to bury the lines, despite the fact that this is by far the most important preventive measure that can be taken to prevent fires.
"We hope this is evidence of a new direction for PG&E, one that includes greater transparency, support for independently operated microgrids, and an absence of profiteering from the company's necessary power line burying operations." 
Prior to last week's announcement, according to PG&E's Wildfire Safety Plan, the company had completed the undergrounding of only 30 miles in Butte County for the year 2020, and planned to bury another 18 to 56 lines in 2021 and 47 to 146 in 2022. Now PG&E will bury 20-30 times the number of miles every year. 
The Bury Power Lines Now! Campaign's petition sparked extensive public discourse on various social media platforms and awareness that long term solutions to fires were urgently needed. Nearly 150,000 Californians viewed posts about the issue on the Sonoma Independent's Facebook page, which became a forum that drew hundreds of comments.
"In July 2018 the hot winds and utility line caused the Holiday Fire that burned much of my Goleta neighborhood. The windy ridges near residential areas are a good target for undergrounding," Katie Davis wrote on the petition page.
"Preventive investment now can avoid billions of dollars and, more importantly, environmental destruction that we CANNOT afford at any level," commented Kathlyn Hendricks.
The Bury Power Lines Now! Campaign engaged in a series of discussions with staffers from the state legislature, Senator Mike McGuire, and the Public Utilities Regulatory Commission. Sonoma Independent Editor Jonathan Greenberg also wrote to PG&E directly, but the company's top communications officer was unwilling to answer any one of five specific questions that were asked of them about power lines, including whether they had the capacity to underground more than they were burying. 

Heather Caswell, founder of the Davis Community Vision Alliance, said, "It's time for real solutions. I'm happy to see that our newly formed people-powered grassroots group of concerned citizens was able to strategically assist The Sonoma Independent on this historic statewide campaign."

Delaine Eastin, former CA Superintendent of Public Instruction and Assembly Member, was one of the most prominent public figures to support the cause.
"I was gratified to hear PG&E volunteered to bury 10,000 miles of high voltage power lines in rural parts of our glorious state of California," she said. "The horrific inferno fires of recent years, too many caused by those power lines, not only decimated some of the most beautiful forests on the planet but people's homes, businesses, and memories. We are a much denser planet and we need to remember the wise words of Benjamin Franklin, '…an ounce of prevention is worth a pound of cure.'"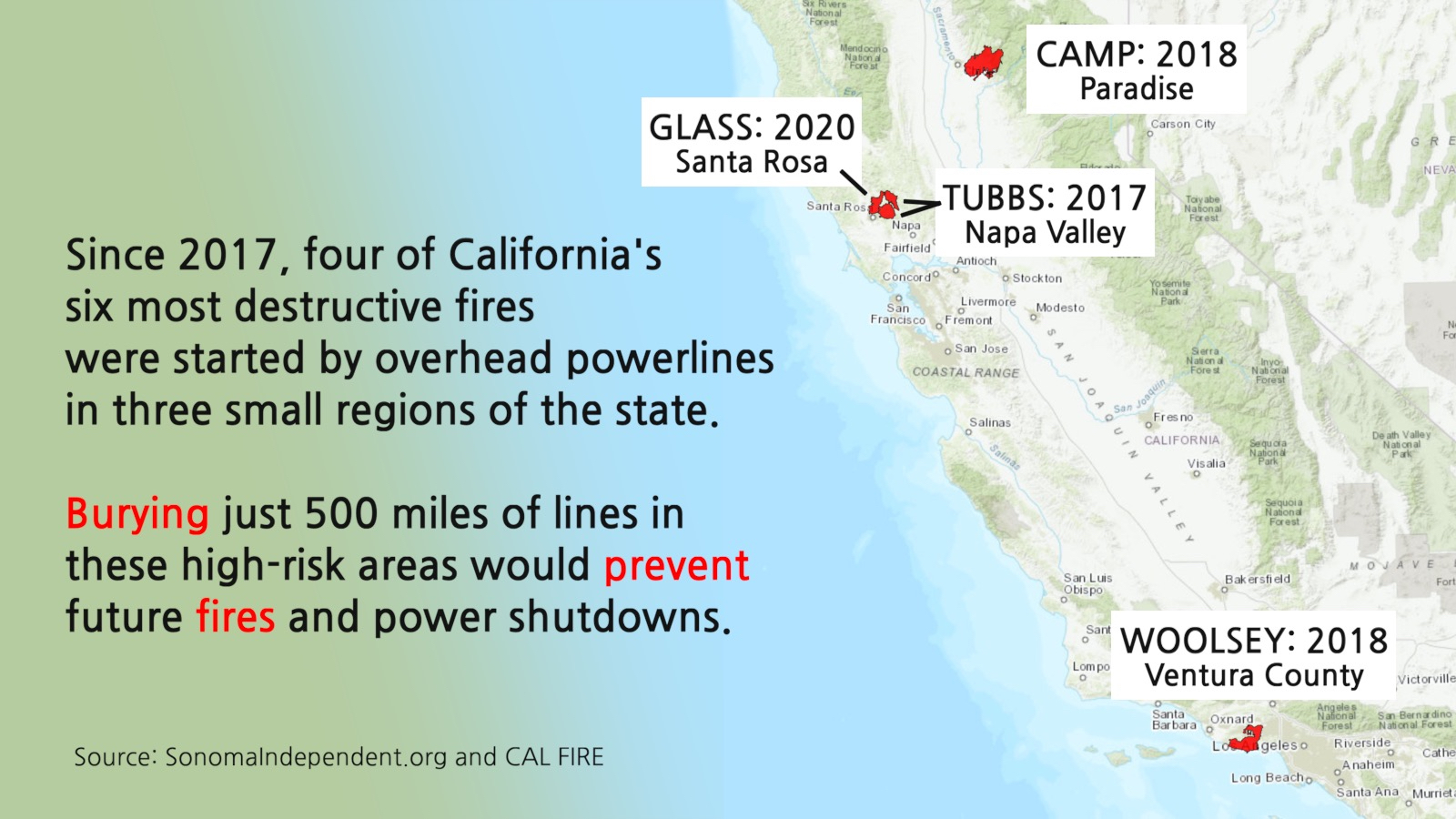 Leave A Comment